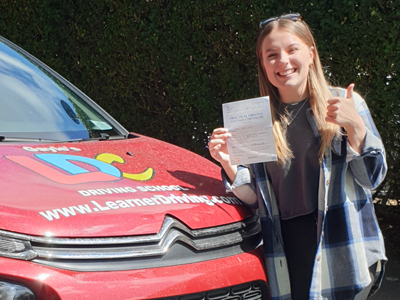 Demi
Passed 1st Time
Can't thank Gayle enough for taking the time each week to help me learn to drive. She was so patient, friendly and always made me feel so relaxed! She explained everything in detail and took the time to discuss situations when I made a mistake so I understood where I went wrong and how to fix them. She was also so accommodating when it came to booking my lessons. Would highly recommend Gayle 😊 I also found the LDC workbook very helpful at preparing me for each lesson and my test!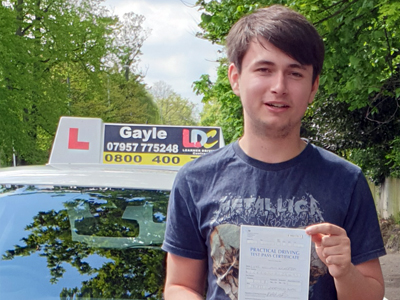 Luke
Passed 1st Time
My local driving instructor could only offer a lesson every three weeks so I changed to Gayle's Driving School. Gayle gave me regular weekly lessons so my learning was consistent. Gayle always encouraged me to achieve more using her patience and advice. I was pleased to have passed my test the first time last week. With grateful thanks to Gayle I recommend her for driving lessons.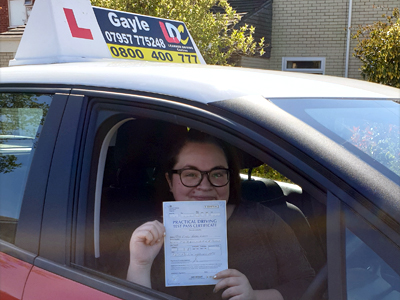 Emily
Gayle was kind, professional and laid back from the get go which immediately made me feel like I'd gone with the right instructor. I probably wasn't the easiest person to teach as my nerves and emotions got the best of me quite a lot, but we always had a laugh accompanied by productive tips, help and pointers. Communication was great and texts and calls were answered promptly. Gayle did not give up on me even when I was ready to give up on myself. I cannot thank Gayle enough for everything she's taught me and helped me with. I will actually miss our lessons and would recommend her to everyone!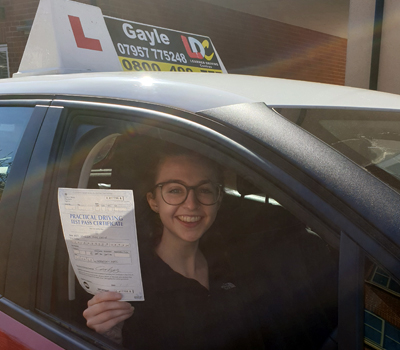 Vanessa
Passed 1st Time
I have nothing but great things to say about Gayle as an instructor. Learning to drive during COVID times brought on its own challenges and complications, but Gayle was always on top of what the regulations were and kept me informed as things continuously unfolded. Throughout my learning experience, I felt supported and at ease under her instruction. Even as a fairly nervous driver, I was able to relax and ultimately enjoy my lessons which helped to develop my confidence. Going into the test, I felt fully prepared and assured that there was nothing they could throw at me that I hadn't seen before! Passed on my first attempt and I couldn't have done it without Gayle- highly recommend!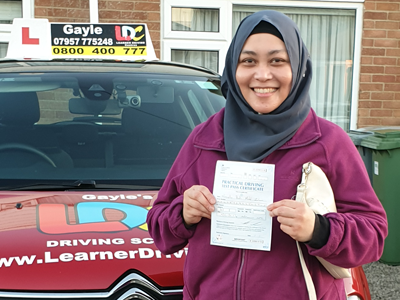 Lin
A big thank you to my instructor Gayle, who has been a good motivator and understanding my nervousness. Throughout all my driving lessons, she regularly gives tips and handy hints on different situations. The LD system, book, and videos have also been very useful before starting each lesson. Gayle was very helpful in explaining instructions clearly and reminding the road rules when I am not sure of something. She will not only teach you to pass your driving test but to be a good driver. Thank you for all your support as I am feeling more confident and have a better understanding of on-road situations.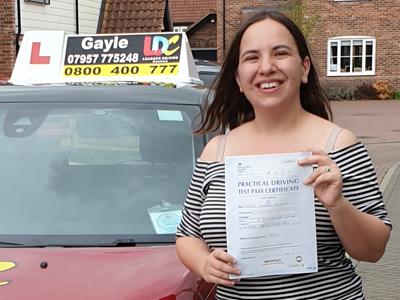 Rachael
Passed 1 Time
When I first started driving, I was an exceedingly nervous driver - my previous instructor thought me unteachable, and I thought I would never pass! Gayle, however, has really helped me develop my skills and confidence. She is incredibly supportive and kind, as well as being a fantastic teacher who makes instruction clear and easy to follow. She is easy to talk to and is very responsive over texts and phone calls. During the pandemic, Gayle has been excellent at communicating the changes that have taken place, as well as ensuring cleanliness and safety within the vehicle during lessons. With her guidance I have managed to pass first time and I am so, so grateful for all her encouragement, kindness, and knowledge. Thank you, Gayle!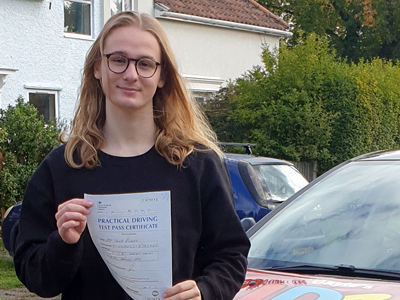 Steph
Gayle is a breath of fresh air after struggling with a different instructor. She makes you feel very comfortable while teaching you at an incredible rate. Her responsiveness via texts made it so easy to rearrange session, ask questions and stay in contact for information throughout. I had already failed two tests with my old instructor but with Gayle I passed first time due to her tips and techniques. I couldn't have wished for a better instructor.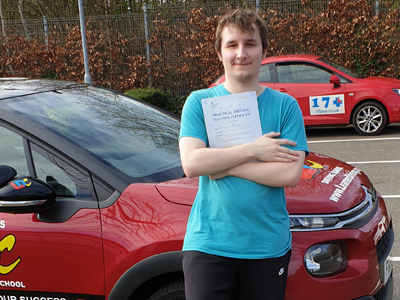 Josh
Passed First Time
Having started driving lessons in France, I was nervous driving a right-hand drive car. I needn't have worried as from the first lesson Gayle put me at ease. She's very calm, patient and excels at giving instructions, hints and tips. She's easy to talk to and I can't recommend her highly enough. The lessons were well structured and when I took my test, I felt confident and passed first time. Thank you Gayle for all your hard work. 😊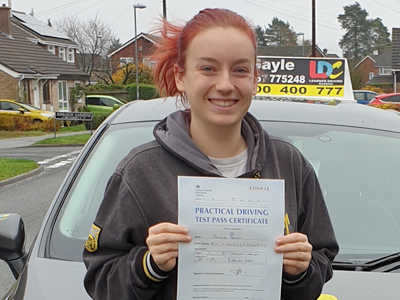 Olivia
Gayle is a great instructor. She's really kind and friendly and makes you feel really comfortable behind the wheel. She's supportive and helps you through any mistakes you make. I felt incredibly confident when taking my test. I would definitely recommend Gayle as an instructor.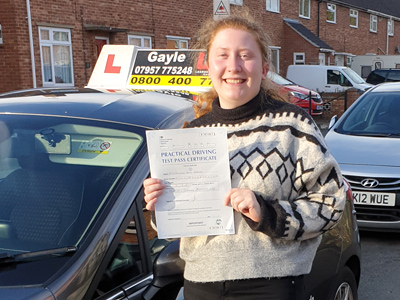 Kathryn
Gayle is a kind and easy to talk to instructor who will be very patient with you! I was nervous to start driving but Gayle was very supportive and easy to get along with. She helped me pass my test first time, couldn't recommend her more! 😁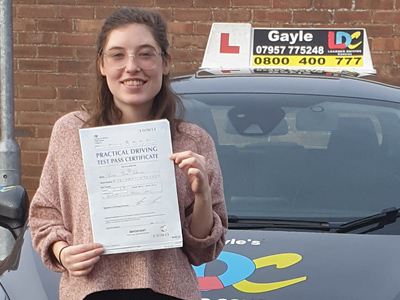 Emma
Gayle is a great instructor! She's been really supportive and encouraging throughout - which was especially helpful for me because I'm not the most confident of drivers. She could always point out exactly where I was going wrong and what I needed to do to fix it. Her kindness and support were much appreciated and I would recommend her to anyone (especially those who are slightly apprehensive about being behind the wheel).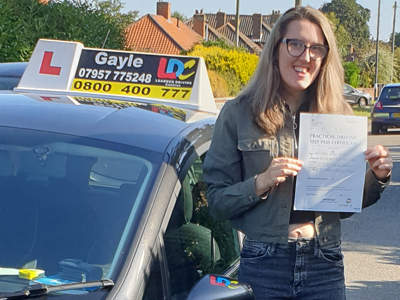 Billie
Gayle is a hard worker and always tries to bring out the best in you. Thank you.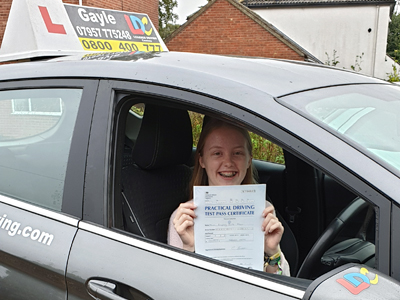 Bryony
Whilst learning to drive, Gayle was extremely helpful, patient and very understanding. In between learning to drive I became very ill but Gayle was very accommodating about changing/missing my lessons. I never felt stressed with Gayle when I did anything wrong as she always helped me in a kind way to put it right and helped me not to do it again. I appreciated this kind support as I get very stressed under pressure, but Gayle helped me learn to be a calm and safe driver. Thank you for all of your help over the last few months. I would highly recommend Gayle as an instructor.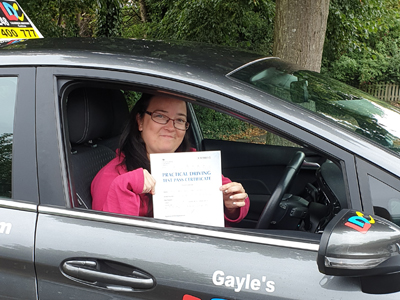 Sharon
Passed First Time
A huge thank you to Gayle for being patient and helping me every step of the way 🤣🤣 she is a great instructor highly recommend Thank you again!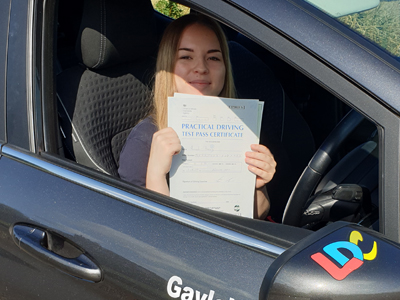 Hannah
Throughout my driving course Gayle was patient and understanding of the mistakes I made. She never gave up on me and believed in me until I passed. I am incredibly grateful to have had an amazing instructor who has taught me so much in such little time. I wouldn't have wanted any other instructor.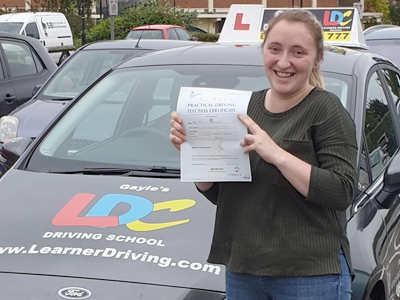 Willow
I highly recommend Gayle as an instructor. She's extremely patient as you're learning and doesn't mind taking slightly longer than usual so you can get the hang of things. She makes all lessons enjoyable as opposed to stressful. She hides her frustration well when you make stupid mistakes you'd not usually do. She helped me through my lessons to passing first time. I couldn't be happier to have had Gayle as my instructor. A lovely friendly lady that I'm surely going to miss spending time with each week! I'm not sure what else to add but I'm sure there maybe more at some point :p x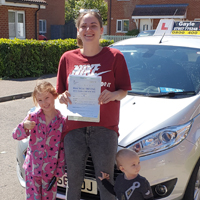 Ruth
Passed First Time
Passed first time. Really good instructor. Really put me at ease as I'm quite nervous. Had more faith in me than I did of myself. Highly recommended. Thank you again.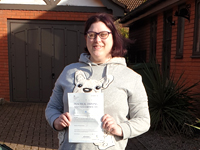 Katie
Passed First Time
Gayle is a very good teacher with lots of patience and understanding. Her explanations are always very clear and understandable. Even though I am a very anxious person her skill as an instructor helped me progress at a steady rate through the course and let me gain confidence behind the wheel. I'd definitely recommend Gayle to others who are nervous about learning to drive!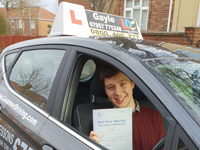 Robert
Passed First Time
Gayle is an incredibly patient and adaptive instructor. She was able to clearly distinguish between the problems with my technique and problems caused by my anxiety. Because of her guidance, I was able to find ways to build confidence on the road. Despite a fair few roundabout and cross-road panics, Gayle managed to get me through on the first attempt. I'll always be grateful!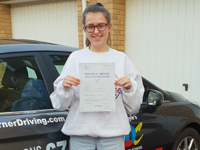 Lucy
Gayle is a fabulous driving instructor. She explains things very clearly, always stays calm and is very encouraging, which really helped my confidence in my own ability. I always looked forward to our lessons and feel well prepared for driving around on my own now! 10/10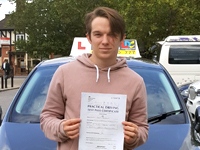 Aarron
Passed First Time
Gayle was very thorough in her teachings and provided a calm yet learning atmosphere. Which was effective in helping me pass.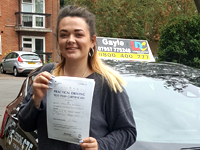 Sophie
Passed First Time
Thank you so much Gayle for making me feel at ease in my driving lessons and having confidence in me and also giving me confidence! Couldnt be more happy.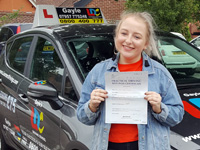 Holly
My instructor Gayle was lovely. She was very patient with my driving and helped me a lot in my lessons. I enjoyed my driving lessons thoroughly as Gayle was a fun driving instructor.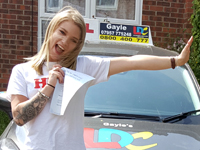 Lily
Passed First Time
Gayle is an amazing instructor. She made me feel very relaxed and calm and helped me understand. I liked the LDC method of learning from the LDC book. Learning with Gayle was a great experience. Driving was kept safe and calm but there were times we could laugh. I would like to thank Gayle for helping me pass first time!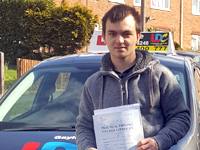 Liam
Passed First Time
Thanks for being a good teacher and helping be through all my lessons and getting me to a first time pass I am very grateful.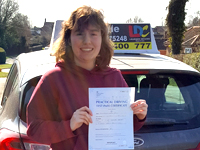 Abi
Passed First Time - Zero Faults
Gayle is a great teacher who will help you through your doubts and answer any queries you have. She really helped me with my confidence (or lack of) which helped me to pass first time! I highly recommend Gayle to anyone who needs a push to help them get started!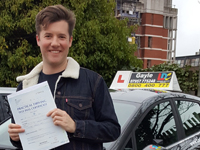 Liam

Courtney
I was so pleased once I passed with Gayle. She is a very patient, friendly and approachable instructor who I couldn't recommend enough. Gayle was able to explain driving techniques in a way in a way I could understand and has helped me to become a confident capable driver.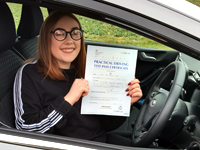 Mia
Gayle was a really lovely, kind and calm driving instructor! Always there to reassure you when you need it! I've learnt so much from her and I would definitely recommend her to others!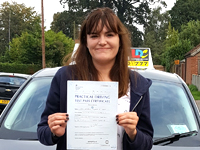 Katie
Passed 1st Time
Gayle is an amazing instructor, and helped me through all of my lessons by making me feel comfortable and giving me confidence in my ability as a driver. I would highly recommend her as a driving instructor. She was really relaxed and showed me new skills when driving.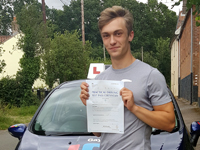 Mark
Passed First Time
PASSED FIRST TIME!!!! Friendly, funny, patient and understanding. Thoroughly recommend Gayle to anyone, very good instructor and really pleased I chose her for my course.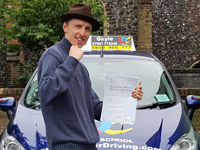 Archie
Passed First Time
Gayle is an an exceptional instructor and led me through the driving course thoroughly and at my own pace. I'd highly recommend her as an instructor for anyone wishing to learn to drive with a friendly and informative instructor.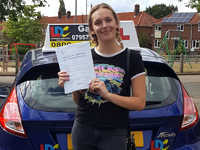 Kira
Passed First Time
I am so happy to have passed my driving test first time. Gayle is amazing as she always made me feel comfortable behind the wheel and relaxed. I would recommend Gayle to anyone wanting driving lessons as she is very kind, understanding and easy to chat with. Thank you!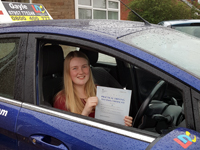 Helen
Passed First Time
Gayle had been the most amazing driving instructor. She is not only patient and resilient but is friendly and approachable too. She explains things really well and allows you to build up confidence in your driving before pushing you further. Her lessons are relaxed and enjoyable and I would highly recommend her.
Robert Linney
Having passed with Gayle I can't recommend her instruction enough! Seriously, if you want to pass your test with the nicest, most relaxed and understanding instructor, Gayle is the one for you! I was super nervous and anxious but Gayle made me feel confident in my abilities and now I'm super confident about driving! Highly doubt you'll find a better instructor in Norfolk or the world.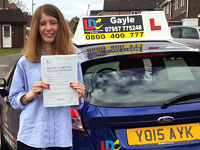 Alicia
Passed First Time
Gayle has been the most friendly, patient and understanding driving instructor. It took me a while to get my confidence up in order to feel ready to take my test, but with Gayle's help and knowledge I have now passed. She will always answer any questions you have and is very good at explaining things, even if it needs repeating in a different way. I would definitely recommend Gayle as your instructor, she is so supportive and I am grateful to her for all her help. Thank you!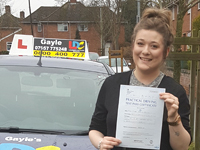 Olivia
I went with Gayle to do a 7 day intensive course and thoroughly enjoyed every minute. She was intentive and very supportive from the moment I got into the car on my first day, to leaving the car on my pass day. She made me feel completely relaxed even though I was completely anxious about the end result. Would absolutely recommend Gayle 1000 times over. I would go with Gayle at the drop of a hat if I had to do it all over again. Highly enjoyable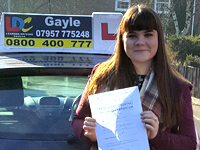 Rose
Passed First Time
I am so excited to have passed first time! Gayle is a very kind, patient, reliable, knowledgeable and understanding instructor! Even when I needed to be reminded on certain things more than once (the dreaded slow down!!) Gayle never became frustrated or cross, she always remained firm but calm! The LDC driving school was excellent! I enjoyed writing a diary after each lesson, it really helped being able to look back. I also enjoyed being able to revise before each lesson, that really helped me prepare in my mind what to expect. I would very highly recommend having Gayle as your instructor! There's no one better! :)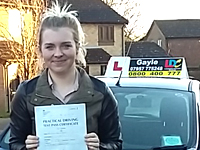 Emma
Passed First Time
Both the process of learning with LDC and my instructor Gayle, has been very helpful. Gayle was always encouraging even when I was doubting myself and was able to explain everything to me clearly and effectively first time, which really helped me develop my driving skills. She was always friendly and patient with me which made the whole learning experience a good one and without her, I doubt I would have passed first time, thank you!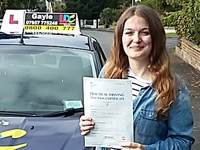 Chloe
Gayle is an amazing instructor and I'd recommend her to everyone! She's always patient and calm, and explains things really clearly. She's knowledgeable and extremely friendly, which meant lessons were always fun as well as educational. Thanks for helping me pass and being so supportive!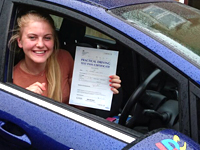 Catherine
After many not so successful lessons with a few other instructors spread out over a couple of years, I'm really glad I found Gayle. I did a semi-intensive course with her, and she explained things within the first couple hours that hadn't clicked in the last 20+ with other instructors. I have already recommended her to my younger sister!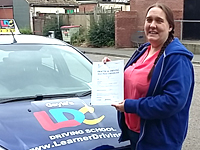 Patsy
Passed 1st time
I would like to thank Gayle for helping me pass my test 1st time :) She is a very patient driving instructor and I would recommend her to anyone wanting to learn to drive.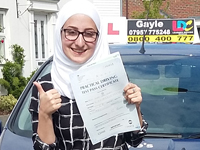 Aisha
Gayle has been an amazing teacher. I started off a nervous driver and thanks to her i am so much more confident now. It took me a while to pick it up to test standards but it was so worth it. Even now, when I drive, I remember all the tips she gave me, which I'm very grateful for. I feel like a safe and able driver because of my lessons with Gayle and would fully recommend her.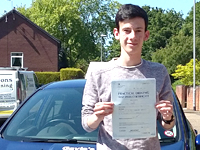 Leon
Passed 1st time
I'm very pleased to have the opportunity to thank my driving instructor Gayle from the LDC driving school which helped me pass first time. I think she's a great instructor and I would recommend her to anyone who is learning to drive.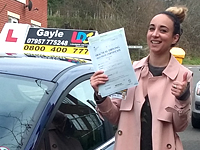 Sophia
What can I say... Firstly thank you for helping me pass and having more faith in me than I ever did. Gayle has been an excellent teacher/instructor. Remaining patience and firm but fair throughout. I really liked the LDC style of 'homework' and lesson plans too. Would definitely recommend to anyone, especially fellow females learners!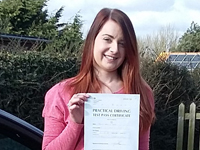 Jasmine
After a rocky start to my driving I was in need of a patient instructor that would bring my confidence back up to speed. Gayle gave me the confidence I needed and helped me pass with only 3 driving faults. I would strongly recommend her to anybody. Thank you!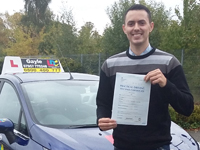 Kevin
First Time Pass
I always knew I wanted to learn with LDC. Having contacted Gayle I would recommend her to anyone wanting to learn to drive as my learning experience has been pleasant but firm and I gained the skills to pass first time.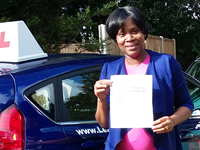 Regina
First Time Pass
I am so excited that i passed my test for the very first time. I was very nervous at the beginning, but with a good and brilliant instructor like Gayle everything went alright. She is very attentive, patient and above all understands her students needs. I will recommend her to anyone, any time.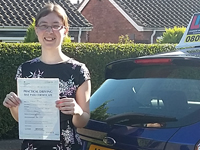 Rebecca
After some test fails with other instructors, I really needed a new perspective on my driving. Gayle was able to tell me where I was going wrong and clearly explained how to improve. Gayle gave me the confidence to finally pass my driving test. I cannot thank her enough for her patience and her support.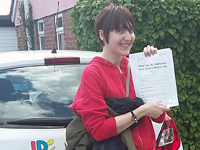 Shannon
Gayle, you're a great instructor - you have always been calm and patient with me, which is what I really needed. There were some awesome lessons- 5 stars all around! I will recommend you to others who are in need of a kind and reliable instructor.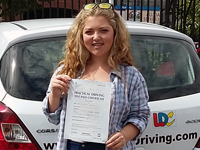 Katie-Anne
When I first started my driving lessons I didn't know anything about cars or driving but Gayle really helped me to understand what was happening. It was such a relaxing and stress free atmosphere. Thanks for putting up with my silly mistakes!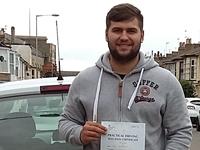 Nauris
I recommend Gayle to anyone who is a bit of a nervous driver at first. She's excellent at keeping calm and patient. I'm very glad that I choose Gayle as my driving instructor. Had a great time learning to drive! Thanks Gayle.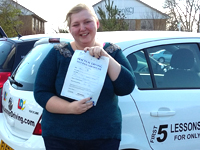 Jess
We looked for ages for a programme that would work for me. It was clear LDC were the ones offering what I needed. When I met Gayle everything was really transparent. I knew exactly what I would need to do to pass and how she would help me, even better I got the resources I would need immediately. As an instructor Gayle was always patient with me (which was a task and a half) but firm enough that I did not waste the time. She was always reliable, friendly and importantly well informed. Though there were a few issues with my test being cancelled due to bad weather, Gayle, was always really fair. Quite basically the fact that I passed my practical driving test the first time is a real testament to Gayle as a driving instructor and I would very happily recommend her to anyone wanting to learn to drive.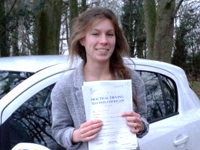 Emma
Thank you so much for the past year's driving. You 've made driving easy and enjoyable to learn and I'm over the moon at passing first time! Thank you again and I will definitely be recommending you to others.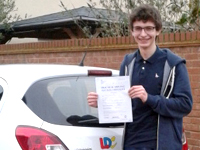 Ashley
Many thanks to Gayle who was a patient and kind driving instructor. She helped me learn all the skills I needed. I would recommend her to anyone wanting to learn to drive.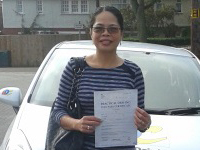 Nora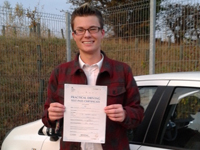 Alex
Gayle is a fantastic instructor who is patient, kind and determined to get you to pass. Thanks to her I passed first time!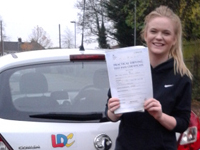 Leanne
Thank you Gayle for the past year, coping with my mistakes! You made sure I knew everything I was going to be dealing with in my test and future driving and that's the reason I passed first time. Thank you again. Highly recommended.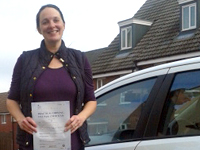 Sarah
I would like to thank Gayle for her time and guidance, helping me to pass first time. I really enjoyed every lesson with her and highly recommend Gayle to anyone wishing to learn to drive. She was always patient, understanding and reassuring.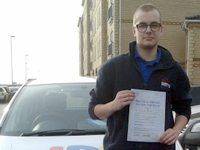 Connor
Many, Many thanks to Gayle for her time and patience. She really helped me along and taught me plenty of good habits! If anyone is looking for lessons Gayle is the person to call.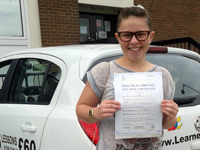 Chantelle
Ldc was a very good and encouraging driving school. Gayle was very good and patient with me. I learnt a lot when driving and I am still using the skills I learnt today. Highly recommended.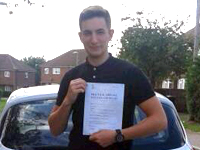 Yevgen
Driving with Gayle has not only increased my confidence on the road but also helped me to learn in a very relaxed environment. Thanks to LDC I was able to pass my test first time without any struggle.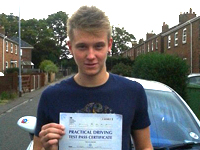 Jordan
Thanks Gayle, for the time and effort that you put into my driving lessons, really helping me along and passing my test first time! Would recommend to other people looking to learn to drive.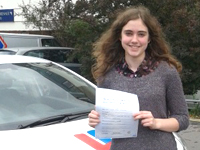 Lydia
I was glad to have Gayle as an instructor. She built up my confidence from my first lesson and I always felt safe with her. She helped me to pass first time and put me in good habits for the future. I would recommend Gayle to anyone looking for driving lessons.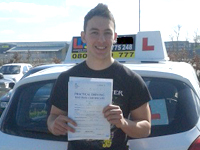 Justin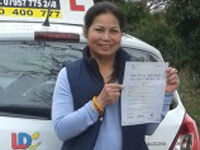 Nan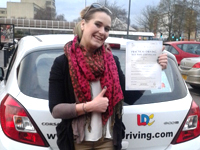 Laura
I want to express my thanks as Gayle got me passed first time! After losing my confidence with my previous instructor she set me straight allowing me to get on the road and allowing me to reclaim my freedom! I highly recommend getting tuition with Gayle as she is patient and understanding of any individual's needs.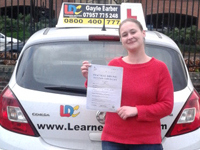 Kirsty
I was very lucky to get Gayle as a driving instructor. I choose to do a semi-intensive course and passed first time in 30 hours. Gayle made me feel at ease every time I got in the car and was clearly the right instructor for me. A really lovely and patient person.
The LDC system I felt was fantastic, easy to understand and to learn from. It helped to make every lesson easier.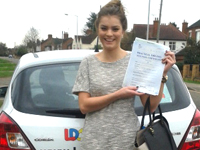 Sophie
I'm very happy I choose Gayle as my driving instructor. She always made me feel confident and always ensured that I was okay with doing things. We kept practising until we felt it was perfect! Best instructor. Thanks for all your help.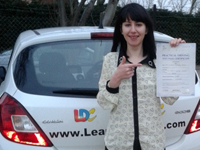 Vicki
At first, I was nervous to drive but Gayle instantly put me at ease. She encouraged me in areas I was uncertain of and built my confidence every step of the way, never getting stressed or pushing me into things until I felt comfortable. Patient, fun to be around and a great laugh. I could not have asked for a better learning experience. Thank you!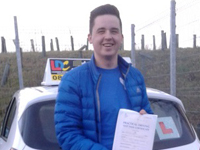 Gintaras
I'm very glad I choose Gayle as my driving instructor. She was very patient with me through all the time I was learning and very friendly too. Anyone who would like to start driving get in contact with Gayle. You will not regret it. I passed first time.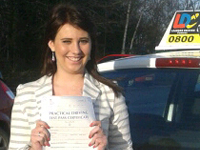 Katie
I had been doing driving lessons for 8 months and honestly did not think I would pass first time, but Gayle was so understanding and very patient. She always asked what I thought and what I needed to improve on and if it were not for that I would not have passed first time without her.
Becky
Having taken 10 lesson initially 8 years ago, I lacked any confidence within driving.
Starting again with Gayle; my experience was completely different to my first attempt. I cannot thank Gayle enough for all her guidance, patience and support throughout each and every lesson, taking me back to basics and building my confidence, listening and re-attempting any areas I still feared before my test.
The LDC system was also very helpful, meaning that I could prepare before each lesson, understand the theory of the practise before physically attempting each stage. The system allowed more time for practical driving and meant that I could take the semi intensive course and test within 30 hours.
The structured system and calmness and support of my instructor most certainly were the reasons I passed first time. Thankyou again for all your help.
Amanda
Gayle helped me to gain the confidence I needed to pass my test the first time. With a lot of persevering, she helped me correct the bad habits that I picked up from driving abroad. She was calm and friendly and made me feel at ease. I would recommend her to anyone wanting to learn to drive. :